Live Earth Farms
Our featured project is a complete alternative energy farming and residential package we designed and built for our clients. This organic farm and residence in Corralitos, Ca. called for us to design and build a completely energy efficient home and outbuildings to compliment the organic farming operation on the property.
We achieved a net zero energy usage by incorporating energy efficient systems and green building techniques and products. These include:
15.4 kW AC photovolatic electrical power system producing enough annual power to meet the needs of house and walk in cooler on farm.


Passive solar orientation and heat gain with south facing windows and thermal mass in floors to collect the heat.


Solar hot water for the house from two large roof panels storing over 80 gallons.


Radiant floor heating throughout the home heated by a low tech boiler with high tech controls.


Additional hot water storage for the house in a stainless steel tank heated by the same boiler, using a radiator inside the tank to transfer heat from boiler. This is a very efficient use of energy.


Solar panels on the roof to heat swimming pool water to 85 degrees six months of the year.


Cooling of the home is by natural convection up a central raised hallway with clerestory windows which also functions to light the home during daylight hours.


Insulation is high density foam reducing heat loss.


Solar power array is ground mounted and easy to clean.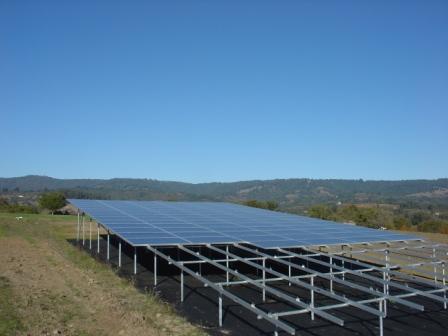 The mechanical room utilizes low tech, long lasting equipment with high tech controls. The boiler is a bullet proof Canadian made cast iron unit, the 80 gallon hot water tank is stainless steel.
Clerestory hall cools and brings light into the home, saving energy.